Thanks for visiting the website of the Davis Longboarding Association. Founded in October of 2000, our goal is to assert a solid longboard presence in the city of Davis and especially on campus.

Davis' population of about 50,000 is mostly comprised of college students and the main mode of transportation is the bicycle (which is also the town's logo). Slowly more and more people are differentiating themselves by skating. Being mostly flat and smooth, the city is a pushfest. So get on a longboard today.
News

Thursday, December 14, 2000
Let's welcome a valuable new member to the DLA, David Kincaid. Just in time for the rainy season, he's supplied an extensive review of Xtreme Wheelz' 112mm offroad wheel kit. Check it out here!
Wednesday, December 5, 2000
Are we alone yet? Today former teen sensation Tiffany came to UCD for a comeback show. How does this relate to longboarding?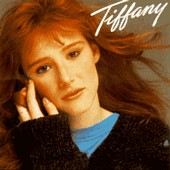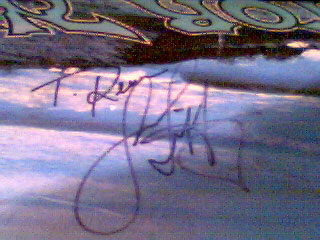 Yes that's right, I'm in possession of a longboard autographed by Tiffany. It reads: T. Kevin, Tiffany. I think I'm in love dude!
Saturday, December 2, 2000
Happy December! There's been a lack of updates lately, but Jennie's cut up lots more flyers so there'll be a second wave of members. Or something. While Christmas shopping, I found this.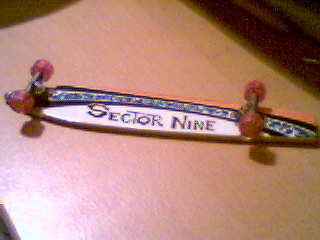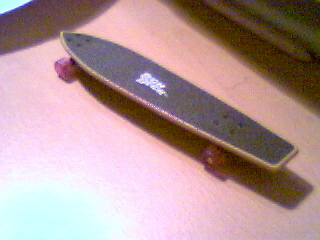 Yeah, it's a finger longboard. My immediate reaction was disgust. Then, I bought it.
Tuesday, November 14, 2000
Welcome new member Zach! Slowly the numbers rise! Muahah..
In case you haven't noticed, it rains. If you insist on skating, a can of Silicone lubricant from Ace Hardware does the trick to protect your bearings. See ya out there suckas!
Thursday, November 9, 2000
The gallery has been updated a little. Have fun at Aggie Jam V... while I suffer in the lab!
Wednesday, November 8, 2000
Yak Bearings + Breaking In > Swiss Bones!
Welcome new members: Keith, Ben, Jennie... profiles to come later!
Look out for the new flyers! Feel honored to be chased down by one of us and have this shoved in your face!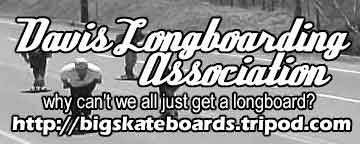 Sunday, November 5, 2000
Tonight it was me and Ant (#2) doing a cross Davis cruise from Cowell to W. Covell. We stopped at near where the skate park is and there's a pretty fun downhill course, about a 1 minute ride down. I'm thinking this is the ideal place to meet when we have more people in the club.
We also need to hit the MU parking structure frequently, but only in large packs. If TAPS busts some skaters, at least we can make sure he busts all of us after we got to ride down!
Saturday, November 4, 2000
Leeman (#3) and I went for a short session today at the new center for performing arts parking structure over near the alumni center. It's not as exciting as it looks from the outside, there's only 2 slight declines. We promptly headed for the Memorial Union parking structure, which is still the best place to face death on campus. Maybe we should all meet there?
Also, some ideas for T-Shirts and stickers were thrown around. Now wouldn't that be nice...
Neo-punk, emo, whatever! The new Blink 182 live album rocks!
Thursday, November 2, 2000
Hey, I guess it's not that hard to make this an official UC Davis club. All we gotta do is have a handful (5+) members, and fill out some paperwork. Alright!
Also, I'd like to extend a shout out to these people I met today: Ben, Keith, Jennie, and my roommate Sumeet! Yeah!
Wednesday, November 1, 2000
Good November to all yall out there. I can hear the leaves crunching in your wake. Although the reviews section is still in the process of being completed, there are 2 deck reviews and a few other miscellaneous ones up already. Also, for your enjoyment, is a bit by guest columnist Jon. Here's a clip:
You could probably say that I am a food fanatic. I enjoy it, as it is a a big part of all of our lives. When I put sweet succulent steak cooked medium-well to perfection into my mouth as it drips with marinade, I think to myself, "Oh how life is grand." Such is life - to have good friends and good food. When I eat at the San Jose State DC, I have but one thought, "God, may I please die?"
Tuesday, October 31, 2000
Happy halloween! Now that the weather's colder and it gets dark sooner, a lot of people really need to be pressed to go out there and skate. If you want to be hardcore and get out there (and possibly catch pneumonia or something), you'll need to be prepared. I usually make sure I do the following:
Wear a thick assed jacket.
Carry a flashlight.
Hang a red reflector or blinking light on the back of my backpack so I don't get railed by a car.
Put makeshift fenders on my board if it's raining. My wheels extend past the rails of the board so water gets kicked right up at me. I stick a plastic grocery bag between the bend of the truck and the deck so I don't look like i've been "Freestyle Walking" through the hog barn when I get to class. It's also a good idea to be running your crappier set of bearings in the rain.
Carry paper towels if going between classes to wipe down the deck. Also to wipe down my nose.
Trick or treat, bitches!
Love, Kev